On Friday, 22.04.2022 the Design Thinking Workshop with SAP took place. In the online meeting we 6 German and the 19 Americans participated as well as some teachers and SAP employees.
In order to prepare for the in-person design thinking workshop in may, we participated in a SAP design thinking workshop beforehand. The tool Mural was very helpful for group collaboration and communication. After a short introduction by SAP, we did a round of introductions in which each participant talked for 30 seconds about uncertainties in the environment that have an impact on us and what gives you energy anyway. The agenda for the day was presented and then there was a theoretical introduction to Design Thinking. This was followed by the first break-out session on the Empathy and Understand phase where we were asked to come up with an unconstrained person and build a persona around it. We were again divided into our 3 groups and thus developed 3 very different personas. The persona is divided into 4 parts: Name and Sketch, Behaviors and Actions, Demographic and Phychographic Details, Needs and Pain points. After 25 minutes, the persona of group 3 looked like this: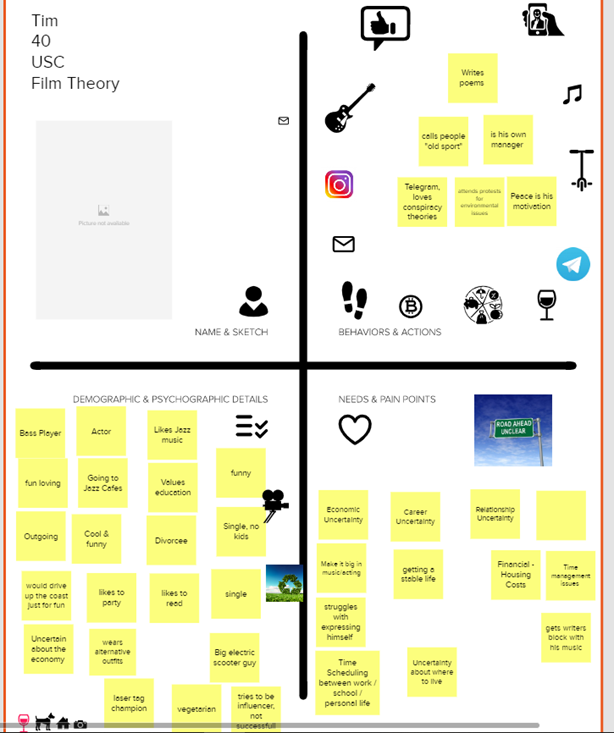 Afterwards, there was a vote on the top 3 challenges from our persona. Our biggest challenges were Career Uncertainty, Financial and Housing Realities and Time Management. Back in the large group, we presented our process and results and there was a second vote on the biggest Problems to solve. Each team then focused on one problem and we went back into break-out sessions. This began the ideate and prototyping phase into which we started with the Crazy 4's. Each of us had paper and pencil and divided the paper into 4 sections to come up with a solution for the problem in 2 minutes each. In a short time we came up with many different ideas, which we presented and discussed in the team. We also voted on these again and then presented them to the large group. Our problem was Career Uncertainty and our best solutions dealt with networking and self-marketing via social media, a suitable working student job and the full focus and ambition to his job.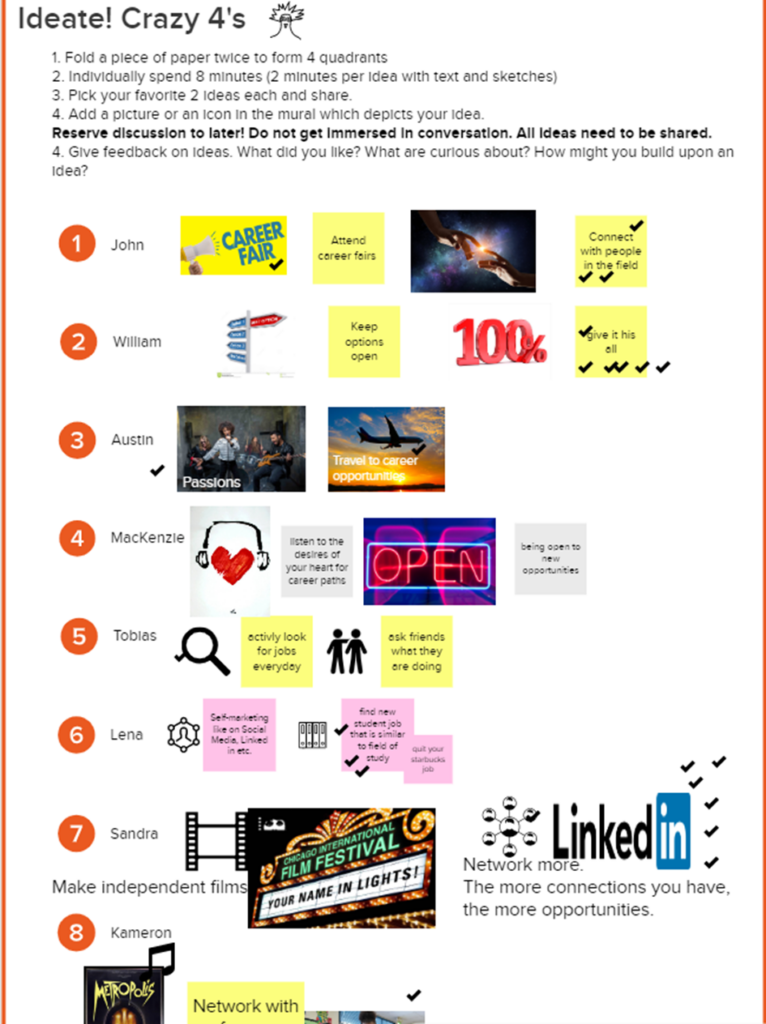 Since we were a little behind in time, we were not able to work on the last task of creating a Narrative.
We ended the workshop with an I like, I Wish where we could give feedback anonymously.

The teamwork went very well and the workshop was a lot of fun. With the newly gained knowledge and team spirit, the anticipation increased for the week when the Americans will visit us!