After the project phase on Wednesday morning, the bike ride in Carrollton, and the journey to Milledgeville, we were warmly welcomed at the accommodation called "Wells Hall." After unpacking and settling into our rooms, the students showed us the community area. In addition to a ping pong table, there was a pool table and many comfortable seating options. Naturally, the rackets and cues were immediately put to use.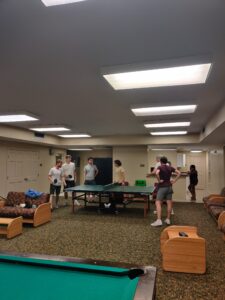 After a short but competitive time in the community room, the students from Georgia College and State University showed us the campus that would be relevant to us for the next two workshop days. After a brief tour of the building, we headed towards downtown.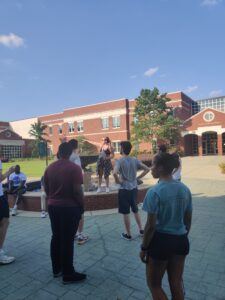 Milledgeville has a variety of bars and restaurants to offer. Since it was difficult to meet everyone's taste in a single restaurant, we divided ourselves into groups with similar food preferences. I went with Jordyn, Aaliyah, Isaac, Shermar and Lars to a Mediterranean restaurant. Accompanied by good food and great conversations, our group of six then headed to the bar where we planned to meet up after dinner. Upon arrival, we ended the evening with a few beers, good music, and a pub quiz.