What did you like about your experience with virtual reality? Dislike?
When we got the VR glasses, we first got accustomed with the setup. In the process, we were all in one room and spread out to draw as large a circle around ourselves as possible. We looked around the start world and familiarized ourselves with the controls. After that, we downloaded the "first steps" application from the appstore. Since we had some problems with the Uni WIFI network, we went home and continued the download there.
The app explains in a simple and playful way how to control the VR goggles and the controllers. We had a lot of fun stacking building blocks, throwing paper airplanes around the room or even playing with the ping pong paddle and ball. We were really amazed at how real it felt and what all works with virtual reality. The application was pretty easy, and we quickly got the hang of how everything works.
Were you able to communicate effectively with your Teammates? How does virtual collaboration compare with real-world collaboration?
After familiarizing ourselves with the operation with "First steps", we downloaded Spatial. The app allows you to communicate with other people in a metaverse. There we watched the tutorial and familiarized ourselves with the different possibilities of collaboration. Annika opened a room where we met to talk about the design thinking process. In the room, we created a large whiteboard where we brainstormed with post-its. We wrote down thoughts, drew on them, placed objects and tried different functions. In the end we came to the result you can see on the picture.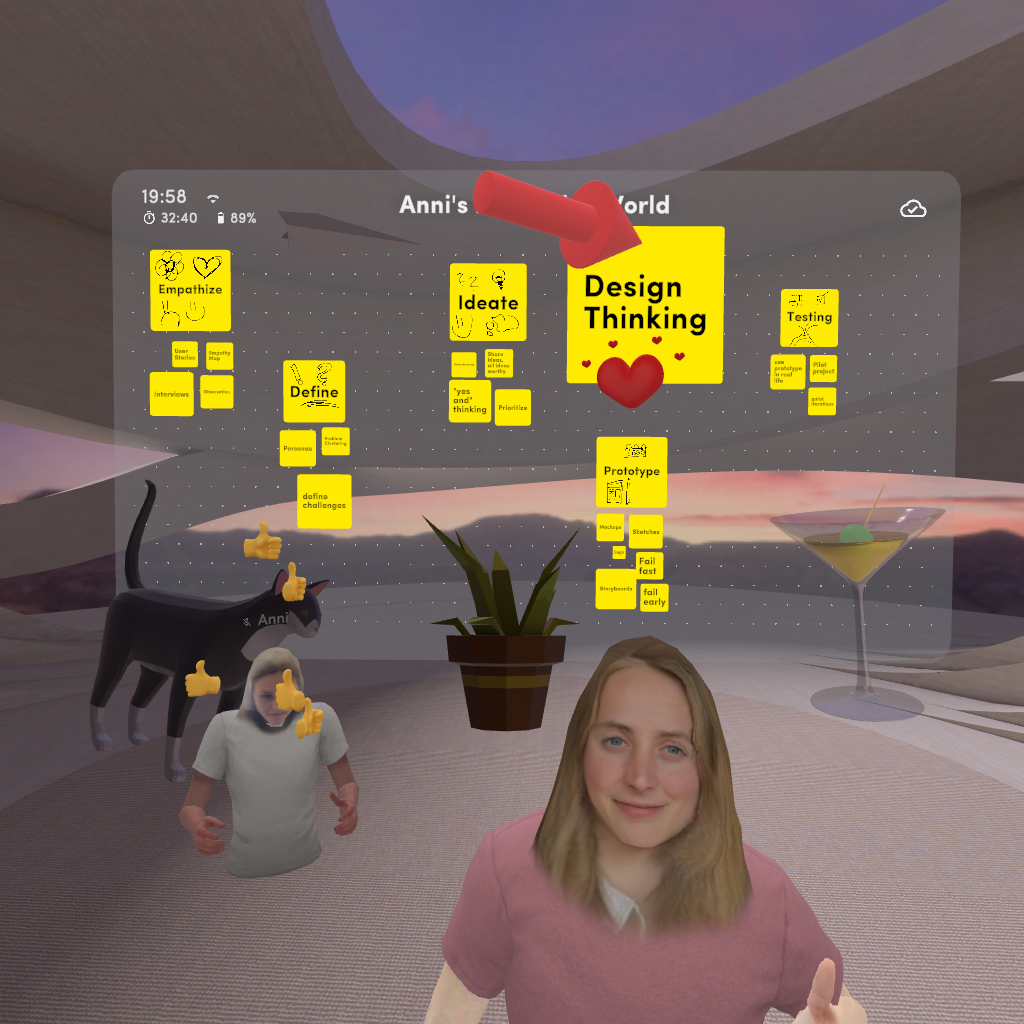 We all thought it was very cool to collaborate in this space, as it was a new way of collaborating that none of us had done before. We were able to use the whole room and move around, although the teleporting made that a little difficult. You also see the people around you with the real-looking faces and don't feel like the people are all at home by themselves. We all had a different sense of collaboration than via Zoom or Teams.
Communication was a little difficult because you couldn't see who was talking. However, the sound is controlled so you can hear the direction of where they are speaking from, so that was positive again. Collaboration was a bit more difficult due to the still somewhat unfamiliar controls as if you had worked with a Mural or Miro board. Overall, the interaction was better and more intense than online in front of a laptop, we were all more focused on the task and the people around us.
In person, collaboration would have been much easier because gestures and facial expressions are largely not transmitted online, and non-verbal communication plays a significant role in collaboration in Person. Also, in person, you can move around the room more and sometimes collaborate in small groups for a short time. In my opinion, working with post-its did not make a big difference to working in person. If possible, I would always prefer workshops in person, because they are much more personal and can involve everyone more in discussions. However, if participants don't have the opportunity to meet "in person", virtual reality is a very good alternative to Zoom or Teams. For longer meetings, you have to consider the battery life of the glasses and if necessary, stay close to a power outlet.
What did you learn about the Design Thinking process while in Spatial?
To prepare for the meeting, we watched various videos on design thinking and the process behind it. We brought the key points together in our meeting and created a common understanding of the process. We learned a lot about the different phases and especially tried to think about and compile which activities can take place in the phases. We think that it will not be so easy to disregard thinking about possible solutions in the Empathy Phase and Define Phase. A second difficulty we see is to decide when the solution you are working on is not the right one and you have to go back a few steps in the process and thus lose time.
Do you think that having skills and experience with virtual reality would make an individual become more marketable to employers? Explain.
Since VR is not yet widely used in companies, we don't think it's a skill that makes one more valuable to an employer. Also, using the glasses is pretty easy to learn and can thus be learned quickly by a wide range of people. Still, we think it's good to know what a metaverse is and how it works, and what the advantages and disadvantages of working there are. For example, one disadvantage for companies is that hybrid working with VR glasses is not possible and if the glasses are to be used in the office building, there must be enough space and the offices must be aligned with VR. Also, I don't think that people will drive to work in the future to work with the glasses.